Photos
Albums
Pistes
Contact Information
Biography
I am a fan of music. Music has never abandoned me. Music has never allowed me to feel empty. Music MAKES me feel something whether it be unbearable sadness, overwhelming joy, love, sorrow, pain, extreme rage or uninhibited bliss. Even when I didn't want to feel anything at all, music MADE me feel alive. Music saved my life. Music made me who I am. I AM because of music. I not only hear the music but I can feel the energy from each musician hammering out their own demons either in their vocals or on their instruments. I appreciate the fact that they are willing to get out there and share that pain/love/raw emotion with me. I can feel it. Music creates an instant connection between the performer and the listener and that makes it all more special. Independent music seems to have stronger energy in it...people live for their music, they are starving artists and they starve just so they can do what they love...and in turn I love them for it. It is raw and exactly what they are wanting people to hear.

I'm a fan of all music. I don't have a certain type that I like,I have some that I am partial to but if the melody hits me I don't care what genre it is. Some of my favorites are anywhere from Alice in Chains, Mad Season, Pantera, Down, Soundgarden, Bastille, P!nk, Mazzy Star down to Mark Lanegan and groups like Sparklehorse and some of the lesser known acts that put out such wonderful tunes from heavy metal to brit-pop. I don't need labels...just the music.



I'm shy about singing...so joining this group is stepping outside my comfort zone. Very few people have heard me sing. But I'm pushing myself to do something new. Hope you enjoy my tracks.
Instruments
Vocals,

Play: (kind of) guitar, bass, violin

Own: 1 acoustic guitar, 1 acoustic/electric guitar, 2 violins, 3 electric guitars, 2 electric bass and one acoustic/electric bass guitar.
recording devices
Recording setup? hahaha

I use (feel free to laugh) the free version of Audacity on an Acer Laptop and I sing into (no joke) a Guitar Hero microphone I got at a yard sale for a dollar.

Sad truth. But I try to make the best of what I have. PLEASE please feel free to send me links to vocal programs and anything you think may help me and the ram-shackled setup I currently use.

Update: New Mic- Blue Yeti.

Birthdate
Juillet 12 1979
Statistiques utilisateur:
| | |
| --- | --- |
| morceaux publics : | 69 |
| fans: (pouces) | 2.496 |
| pouces donnés : | 1.869 |
| commentaires: | 1.616 |
| posté sur forum : | 22 |
| remixes reçus : | 438 |
| vues de jams : | 610.997 |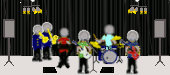 wikiloops online jamsessions are brought to you with friendly
support
by:
ALawrence1
from United States
"This site is a dream come true! Thank you for everything!"